****Per Barbara Jacoby's School District Announcement: Beginning this week, in an effort to reduce potential community spread, we will temporarily discontinue parent visits to the cafeteria and extended parent/volunteer visits to classrooms. This temporary limitation will be reviewed on Jan. 21, with visitors possible as soon as Jan. 24.
We continue to closely monitor case levels among employees and students and the community at large, and communicate with the Department of Public Health and local hospital leaders. As you know, we have worked closely with the health department to provide access to vaccinations and boosters to all interested employees, as well as priority testing for employees. We have increased our pool of substitute teachers, increased substitute pay and instituted an emergency substitute plan using central office staff. It is our hope that these steps will help us maintain our commitment to keeping our schools open for in-person learning.
VOLUNTEER IN THE CAFETERIA
---
---
We all know that Staff Appreciation Week is in March, however, we want to contribute to making the ENTIRE school year the best one yet. Thank you for considering donating to help them have a great school year! Click on the Sign Up Genius Link.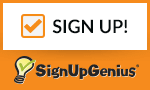 ---
VERY IMPORTANT:
Per school district policy, before you can volunteer, you must fill out the first 2 pages of the attachment and return to Mrs. Vicki. You can drop it off at the school or email it to: vicki.wheeler@cherokeek12.net.
---
---
---